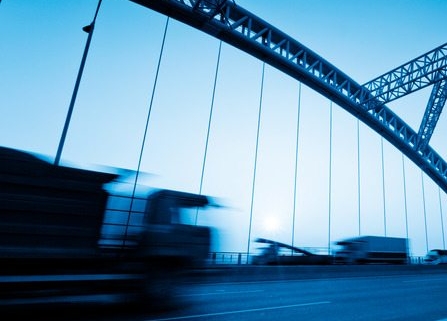 How Can Truckers Prevent Rollover Accidents? 5 Tips from a San Diego Injury Lawyer
Commercial trucks and passenger vehicles do not operate the same way. Trucks are larger, heavier and have a higher center of gravity. Most commercial trucks carry cargo of some kind, which can shift and cause an accident.
[fusion_builder_container hundred_percent="yes" overflow="visible"][fusion_builder_row][fusion_builder_column type="1_1″ background_position="left top" background_color="" border_size="" border_color="" border_style="solid" spacing="yes" background_image="" background_repeat="no-repeat" padding="" margin_top="0px" margin_bottom="0px" class="" id="" animation_type="" animation_speed="0.3″ animation_direction="left" hide_on_mobile="no" center_content="no" min_height="none"]
Due to their high center of gravity, trucks are more likely to roll over than passenger vehicles – even when their cargo is secure. Fortunately, the vast majority of rollovers are preventable if truckers follow these five tips:
Adjust your driving to the weather;
Reduce your speed;
Be careful around curves;
Do not overload your truck;
And do not rush.
If you were injured by a negligent truck driver in California, contact Jeffrey E. Estes & Associates. Attorneys Jeffrey E. Estes and Alton J. Smith have been litigating personal injury cases on behalf of California residents for almost 30 years.
Call 855-290-8080 to schedule a free consultation with an accident attorney in San Diego. You can also visit truck-accident.usattorneys.com/ to learn more about truck accident injury claims.
Here are five tips to help truckers prevent rollovers:
Adjust Your Driving to the Weather
Rain, snow, fog and other adverse weather conditions can make driving treacherous. They can reduce a trucker's visibility, making it difficult to see unexpected hazards in the road.
If a truck driver turns abruptly at a high speed – for example, to avoid an obstacle in the road – there is a high risk of a rollover. As such, commercial truck drivers should reduce their speed and double their following distance when travelling in poor weather.
Reduce Your Speed
According to the National Institutes of Health, nearly half of all rollovers involve speeding. Truck drivers should never exceed the speed limit, and they should travel well below the speed limit in certain scenarios, such as when driving in adverse weather and on curvy roads.
Be Careful around Curves
Navigating ramps, windy roads and other curves is uniquely challenging for truckers. Because of the truck's high gravity center, it will tilt when turning a corner at a high speed. If the trucker is travelling too fast or turning too sharply, or the cargo shifts, then a rollover is likely. Commercial truck drivers should always reduce their speed when approaching curves in the road.
Do Not Overload Your Truck
Overloading a truck is dangerous for many reasons. It extends the vehicle's stopping distance and can adversely affect its handling. Also, overloading can increase the likelihood of rolling over.
Do Not Rush
Sometimes truckers face unexpected delays due to adverse weather, breakdowns or traffic congestion. However, commercial truck drivers should never rush or behave negligently to meet a deadline. As previously mentioned, travelling too fast, turning too sharply, or having a late response to an obstacle in the road can all contribute to a rollover accident.
If you were hit by a trucker in California, contact a San Diego injury lawyer from Jeffrey E. Estes & Associates. We have recovered more than $150 million for our clients in successful settlements and verdicts.
Se habla español. Call 855-290-8080 to schedule a free consultation.
[/fusion_builder_column][/fusion_builder_row][/fusion_builder_container]
https://jeffreyesteslaw.com/wp-content/uploads/2021/11/photodune-4517147-truck-xs.jpg
447
447
damg
https://jeffreyesteslaw.com/wp-content/uploads/2021/12/logo_estes_NEW.png
damg
2016-08-05 16:30:03
2022-10-17 18:37:07
How Can Truckers Prevent Rollover Accidents? 5 Tips from a San Diego Injury Lawyer