It is a common misconception that whiplash is a minor injury that will heal without medical intervention. If left untreated, though, the symptoms of whiplash can worsen, and patients who do not take the proper precautions might aggravate the injury and cause permanent neck damage.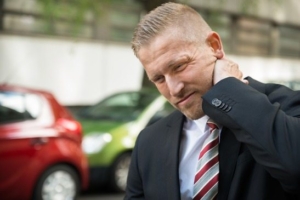 Rear-end collisions are the leading cause of whiplash in the United States. Right Diagnosis estimates that 120,000 people in our country sustain whiplash every year. Because this injury is so common, it is important that all drivers and passengers are able to identify the symptoms of whiplash so they know when to seek medical attention.
If you sustained a neck or back injury in a collision with a negligent driver, you may be entitled to compensation for medical bills, lost income, and non-economic damages. A San Diego auto accident attorney from Jeffrey E. Estes & Associates can help you navigate the claims process and fight for the maximum compensation.
Attorneys Jeffrey E. Estes and Alton J. Smith have been litigating personal injury cases on behalf of California residents for almost 30 years. Call 855-290-8080 today to schedule a free initial consultation.
8 Common Symptoms of Whiplash
The adrenaline and shock of a serious accident can mask the symptoms of an injury. Even if you feel fine after a collision, it is a good idea to undergo a medical evaluation. If you do not visit your doctor and you later decide to file a personal injury claim, it may be difficult to tie your injuries to the crash. Also, the insurance company may argue that your own negligence contributed to the severity of the injury and, therefore, you are not entitled to a full payout.
According to Mayo Clinic, the effects of whiplash may not be apparent until several hours of even days after an accident. You should seek medical attention if you notice any of the following symptoms:
Pain between the shoulder blades;
Lower back pain;
Numbness in the hands or arms;
Inability to sleep;
Neck stiffness;
Disorientation;
Inability to concentrate; or
Persistent headaches.
Effective Treatments for Whiplash
If left unaddressed, the symptoms of whiplash can worsen. According to WebMD, the following treatments are effective for patients with whiplash:
Icing your neck for 15 minutes every three hours for two to three days;
Painkillers such as NSAIDs;
Massage therapy;
Ultrasound therapy; and
Wearing a neck brace.
If you were injured in a collision with a drunk, distracted, or negligent driver in California, contact Jeffrey E. Estes & Associates. A San Diego injury lawyer will help you navigate the claims process and avoid costly mistakes.
Alton J. Smith was selected for inclusion in 2012 Southern California Super Lawyers – a designation awarded to only 5 percent of lawyers in southern California. Call 855-290-8080 today to discuss your case in a free initial consultation.
https://jeffreyesteslaw.com/wp-content/uploads/2021/11/photodune-11862194-young-man-having-neck-pain-xs-1-1.jpg
365
547
damg
https://jeffreyesteslaw.com/wp-content/uploads/2021/12/logo_estes_NEW.png
damg
2017-04-24 19:45:58
2022-10-17 18:37:05
What Are the Symptoms of Whiplash after a Car Accident?