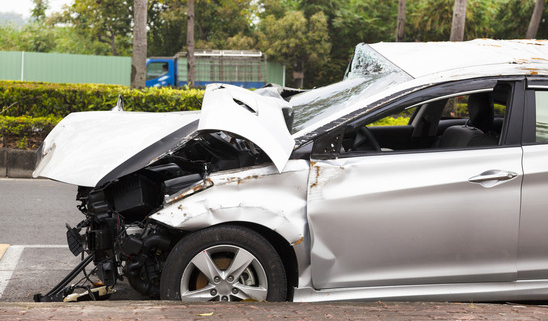 Cousin of Modern Family Star Sarah Hyland Killed in Drunk Driving Crash
Back at the beginning of December, NBC San Diego 7 reported on an auto accident that claimed the life of a 14-year-old. The teen, who happened to be the cousin of Modern Family star Sarah Hyland, was identified as Trevor Canaday and he was killed in a collision involving a drunk driver. The source said that Canaday and his father were hit by a motorist who allegedly had two prior DUI convictions.
After the incident occurred, Hyland took to Instagram where she posted a photo of Canandy with a caption that read "This is my 14-year-old cousin Trevor. Yesterday, he was killed by a drunk driver. My uncle is still in the hospital in need of more surgeries. Please swipe up to help." Apparently, the intoxicated motorist who hit Hyland's relatives did so at such a fast rate of speed that the impact ejected Canaday who was said to have been wearing his seatbelt. And based on Hyland's social media post, the impact left her uncle severely injured requiring him to undergo several surgical procedures.
After the passing of Canady, his mother and sisters all set up a GoFundMe page in his name in an effort to collect money for funeral costs and medical expenses. The page, which was dedicated to Canaday and his father said, "Trevor was a funny, smart, innovative, athletic, goofy kid and he was so loved. His memory will live on in many ways. Please help us do this for the family now to help ease their suffering away from money to focus on healing emotionally." As of Christmas Eve, the family had already raised $45,515 of their $40,000 goal.
Unfortunately, the December Holidays Aren't Only a Time for Celebrating
The truth is, it isn't rare to hear about fatal drunk driving accidents this time of year. In fact, the Christmas and New Year's holiday are when a majority of drunk driving accidents tend to occur leaving innocent people severely or fatally injured. According to the U.S. Department of Transportation, in 2016, 781 people were killed in accidents involving drunk drivers in the month of December alone. And during the week between Christmas and New Year's, an average of 300 people were killed in alcohol-related collisions over the past five years.
Therefore, if you lost someone recently to an auto accident in San Diego and are looking for a way to help their family or even yourself recover compensation for the medical bills, lost wages, etc. so that you can place your focus on recovering and not finances, contact San Diego, CA personal injury attorney Jeffrey E. Estes.
Our personal injury law firm understands how life-altering a car crash can be, especially when it results in the death of someone we love. And because we want to help you get through this time without having to worry about the financial struggle many other victims encounter, we encourage you to contact us as soon as possible so we can begin helping you recover the compensation you are rightfully due. Victims and their families generally have a few different options in terms of action they can take to recoup funds for the expenses they have incurred after an accident and our office would be happy to take the time to discuss with you what these are.
If you are ready to schedule an initial consultation so that we can learn more about you and the recent incident that has affected your life, contact us today by calling 619-233-8021. Once we know the circumstances surrounding your accident, we can then review the various ways in which we can help you.

Visit or call Jeffrey E. Estes & Associates today at:
501 West Broadway, Suite 1650
San Diego, CA 92101
619-233-8021
https://jeffreyesteslaw.com/wp-content/uploads/2021/11/photodune-6468017-car-accident-and-wrecked-on-the-road-xs.jpg
365
548
damg
https://jeffreyesteslaw.com/wp-content/uploads/2021/12/logo_estes_NEW.png
damg
2018-12-28 16:16:36
2022-10-17 18:36:39
Cousin of Modern Family Star Sarah Hyland Killed in Drunk Driving Crash