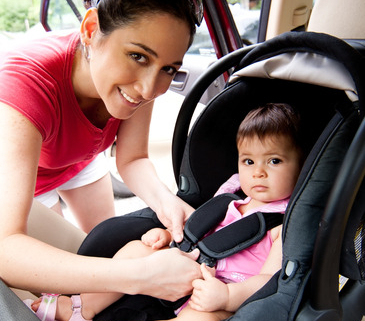 4 FAQs About Child Car Seats All Parents Should Know
One of the most dangerous activities for your children is something you do with them almost every day: driving. Unintentional injuries caused by car accidents cause more child fatalities than any other factor, and most of these tragedies are entirely preventable.
More than 650 children under the age of 12 were killed in motor-vehicle collisions in 2015, according to the Centers for Disease Control and Prevention. Over 35 percent of them were not adequately restrained at the time.
Every time you take your newborn into unpredictable, fast-moving traffic, you are taking a risk – and an age-appropriate, properly fitted car seat will reduce that risk and help you breathe a little easier, knowing that your child is securely fastened should a crash occur.
If the unthinkable has happened and your child was injured in a collision, contact Jeffrey E. Estes & Associates. Our San Diego car accident attorneys have been litigating personal injury cases on behalf of California residents for almost 30 years. We have a reputation for tough litigation and a strategy for winning substantial settlements and verdicts. Call 855-290-8080 for your free initial consultation.
4 FAQs About Child Car Seats All Parents Should Know

New parents have a lot to think about, and a lot to buy. Cribs, clothes, thousands of diapers – these are all essential, and expensive. But in terms of sheer necessity, a car seat trumps all of them.
Read on to learn the answers to four common child car seat questions:
How effective are car seats at keeping my child safe?
A child car seat reduces the risk of fatal injuries to infants by 71 percent, and by 54 percent for children between the ages 1 and 4, reports the CDC. An age-appropriate safety seat is by far the best means of securing your children and keeping them alive in an accident.
Is it dangerous to use a second-hand car seat?
Provided that you know and trust the previous owner, there is no noticeable damage and the seat can be fastened securely, you may be able to get away with using a second-hand car seat. However, it would be safer to invest in a new one because you will be certain that the seat has not been in an accident. Car crashes can cause structural damage to child car seats, rendering them ineffective in future collisions.
Do car seats expire?
Car seats come with expiration dates, which should be printed on the usage label. This date is not a marketing ploy; it's an important safety consideration. Ignoring the expiration date could mean that your child is left using an unsafe or out-of-date product that may break under the strain of a crash.
What are the legal requirements for car seats in California?
By law, all children in California under the age of 2 must be secured in a rear-facing safety seat unless they weigh 40 lbs or more, or are taller than 40 inches. Up to the age of 8, children are required to travel in a safety seat or booster seat and sit in the back seat.
Seeing your child suffering after a car accident is a traumatic experience, made even worse if the crash was caused by a negligent driver. Get in touch with a car accident attorney at Jeffrey E. Estes & Associates to find out if you have grounds for a personal injury claim.
Our law firm has recovered more than $150 million for clients in successful settlements and verdicts. Call 855-290-8080 to schedule a free initial consultation today. Read more about car accident injury claims at the USAttorneys website.
Jeffrey E. Estes & Associates
501 West Broadway, Suite 1650
San Diego, CA 92101
855-290-8080
https://jeffreyesteslaw.com/wp-content/uploads/2021/11/photodune-476534-baby-in-car-seat-for-safety-xs-2.jpg
548
365
damg
https://jeffreyesteslaw.com/wp-content/uploads/2021/12/logo_estes_NEW.png
damg
2018-05-17 15:02:42
2022-10-17 18:36:41
4 FAQs About Child Car Seats All Parents Should Know